Avis de décès pour Thérèse Lauzon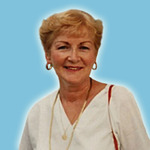 LAUZON, Thérèse (née Gagnon)

The family announces with great sadness the passing of Thérèse Lauzon (née Gagnon) at St. Joseph's Villa on February 8th, 2018. Thérèse was born in Sudbury on October 14th, 1928 to Joseph Emile and Delvina Gagnon (predeceased). She married Aurel in Sudbury in 1946 and they enjoyed 66 years of marriage until his passing in 2012. Thérèse was a beautiful, generous woman who was happiest when surrounded by family and friends. She and Aurel loved to travel and especially enjoyed spending their winters in Florida. She was an excellent cook and a gracious hostess. Thérèse was predeceased by her husband Aurel and daughter Carmen Courville (Dan). She will be deeply missed by her children Suzanne Blanchard (Gill), Paulette Ethier (late Hubert) and Denis Lauzon (Cathy). She is survived by her sister Aline Guerin, sister-in-law May Lauzon and brother-in-law Roger Bergeron. Predeceased by her brothers Albert, Hormidas, Abbe, and Roger, and sisters Jeannette Ranger, Laurette Bergeron, Cecile Richer, and Rhea Hysert. Greatly missed by her grandchildren Jamie Blanchard (Tammy), Greg Blanchard (Shelly), Anne Courville-Pretty (Jody), Nicole Courville, and Brian, Matthew and Chloe Lauzon. Also missed by great grandchildren Kylie and Tyler Pretty, and Patrick and Zacharie Giroux, and many nieces and nephews. The family will receive relatives and friends at the Cooperative Funeral Home, 222 Lasalle Blvd, Sudbury on Saturday, July 28th, 2018 for a service at 1 p.m. in the Chapel.