Avis de décès pour Frances Charlebois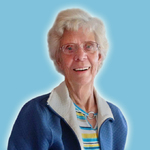 CHARLEBOIS, Frances May (née Jones)
The family would like to announce with sadness the passing of Frances May Charlebois on January 10, 2018 at Pioneer Manor, Sudbury. Frances "Fran" was born on October 23, 1934 in Owen Sound, to Edward and Adeline Jones (both predeceased). Fran was the oldest of her three sisters: Eleanor, Joan and Mary-Louise also predeceased. Fran was the beloved wife of François "Frank" Charlebois. Cherished mother of Penny Plourde (David Sanderson), Cyndy Haydl (Irvin), Rheal Charlebois (Shannon Lang), late Ricky Charlebois ( Christa), Marilyn Bishop (David), Nina Morissette (Robbie Demers) (late Denis Morissette) and Paula O'Connor (Tim). Beloved grandmother of Michelle, Christopher, Patricia, Christie, Lisa, Brittany, Jesse, Trevor, Misty, Joey, Kyrstin, Jonathan, Matthew, Brett, Troy, Nancy, Eric, Melanie, Michelle and Brian. She was a devoted Grandma to 23 ½ great-grandchildren and 4 great-great-granchildren. Fondly remembered by many nieces, nephews, extended family and loving friends. Mom's biggest passion was taking care of her family. She enjoyed gardening, knitting, reading, cooking, sewing and anything that she could do to make life easier for us. Mom always tucked us in with these words and we would like to tuck her in now. "Mom we love you so much and like you so much xoxo". The family will receive relatives and friends at the COOPERATIVE FUNERAL HOME, 4691 RR 15, Chelmsford, Saturday, January 13, 2018 from 1 to 3 p.m. A funeral service will follow at 3 p.m. in the funeral home Chapel, Chelmsford. A Catholic Burial will follow after the service at Maplecrest Cemetery, Dowling. Donations can be made by cheque to Falls Food.