Avis de décès pour Allan MacLean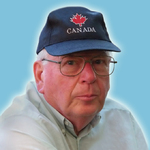 MacLEAN, Allan
The family announces with great sorrow his passing in Sudbury, Wednesday, August 1, 2018 at the age of 74 years. Beloved husband of Etty Veldman of Sudbury. Son of the late Ross MacLean and Irmgard Fleischhauer. Dear brother-in-law of Ko and Colly Veldman and niece Siona Veldman . Lovingly remembered by his cousins Norene and Bruce Brubacher. His friends will remember him fondly.
Special thanks to Diane and Art Gardner and Lou and Anne Ripa for their extensive support during Allan's illness.
The family will receive relatives and friends at the COOPERATIVE FUNERAL HOME, 222 Lasalle Blvd, Sudbury, Friday, August 3, 2018 from 7 p.m. to 9 p.m. Donations to the Health Sciences North Foundation can be made by cheque or online at www.cooperativefuneralhome.ca.